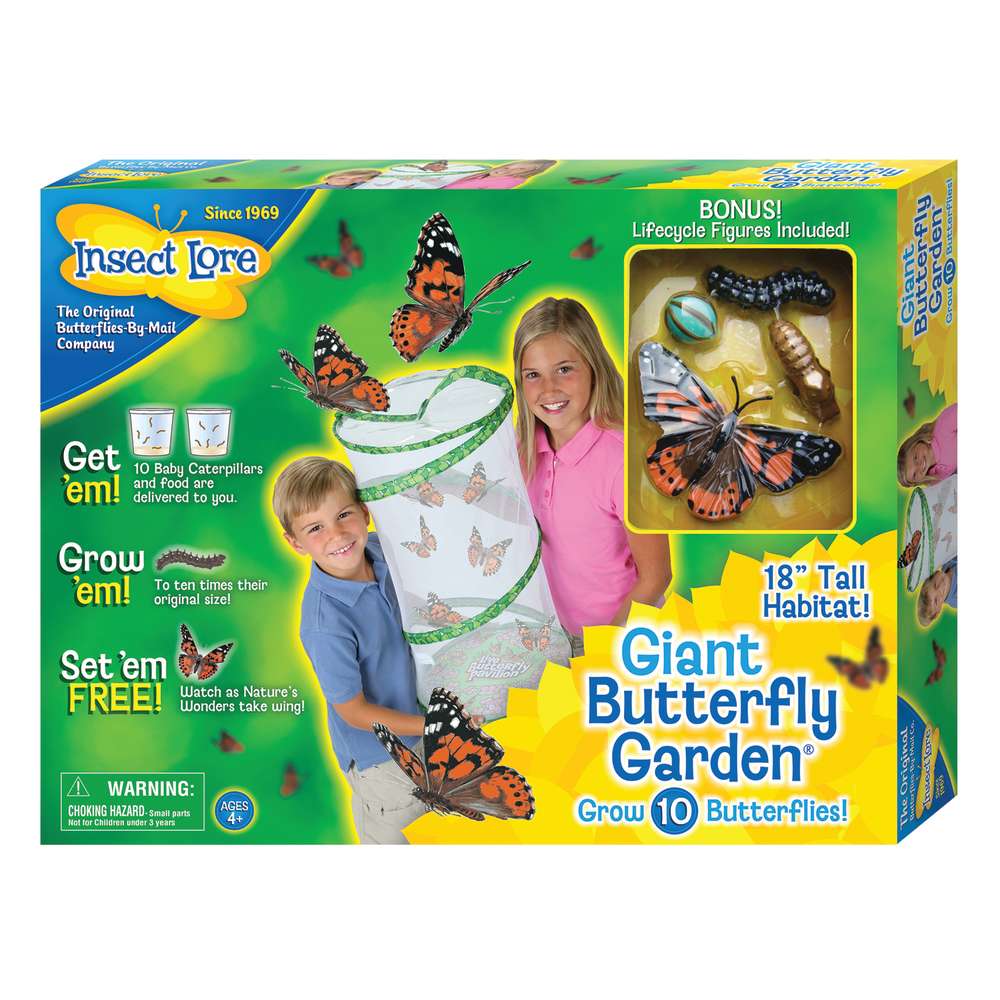 ---
Product Media
Giant Butterfly Garden®
Choking Hazard - Small Parts
WARNING: CHOKING HAZARD - Small parts. Not for children under 3 yrs.
Enjoy this giant–sized version of Insect Lore's popular Butterfly Garden® With Voucher. Children and adults alike will be tr...
Enjoy this giant–sized version of Insect Lore's popular Butterfly Garden® With Voucher. Children and adults alike will be transfixed by the transformation of 5 caterpillars into beautiful Painted Lady Butterflies! Watch the amazing changes for approximately three weeks, then release your adult butterflies into the wild! This kit also includes Painted Lady Butterfly Life Cycle Stages - the perfect educational complement to your butterfly-raising project.
What's in the Giant Butterfly Garden® With Voucher?
Collapsible and reusable 18-inch tall Deluxe Habitat
Pipette for butterfly feeding
Extensive Caterpillars to Butterflies Instruction Guide
A voucher to redeem 5 caterpillars online at InsectLore.com when you are ready to begin your project. Please note that an additional $7.95 fee is required when you redeem your certificate. This fee covers the cost of shipping and handling your Cups of Caterpillars.
Painted Lady Butterfly Life Cycle Stages Figures
Easy to Maintain and Care For
Once you have redeemed your voucher, 5 caterpillars (butterfly larvae) will arrive with all of the nutritious food they need to form into healthy adult butterflies. Just place the cup in a safe place away from sunlight or drafts and watch your caterpillars become little eating machines that grow to TEN times their original size!
Your Giant Butterfly Garden® With Voucher also includes a set of Painted Lady Butterfly Life Cycle Stages. These meticulously detailed figures are the perfect educational accessory for this kit. Oversized for little hands, the egg, larva, chrysalis and adult butterfly are made of durable plastic. They encourage up-close examination of the Miracle of Metamorphosis.
See the Birth of Your Very Own Butterflies
The caterpillars grow so quickly kids will want to check on them several times throughout the day! After about seven days, the caterpillars will crawl to the top of the cup, hang upside down and change into chrysalides. After two or three days it's time to move the chrysalides into the Giant Butterfly Habitat. Keep an eye on your jewel-like chrysalides; your butterflies will emerge approximately five to seven days later!
Children love feeding their hungry butterflies. Lay some fresh flowers in the habitat for your butterflies to rest on and then place a few drops of sugar water on the flowers with the feeding pipette provided. Butterflies also love to feast on slices of watermelon or oranges! A cinch to maintain and use, the handy zippered habitat allows for easy feeding and releasing of your butterflies.
Let Your Butterflies Go!
Your loveable butterflies are a joy to observe, but it is important to release them outdoors within a week of their emergence from the chrysalides. The release of your butterflies offers children yet another valuable lesson about the necessity to allow their butterflies to continue their important life cycle. Happily, butterflies often remain in your garden for a few days after release!
Please Note: This kit does NOT contain live insects.
Shipping: Live caterpillars are shipped to destinations within the Continental USA and Alaska. We cannot ship live caterpillars to Hawaii.